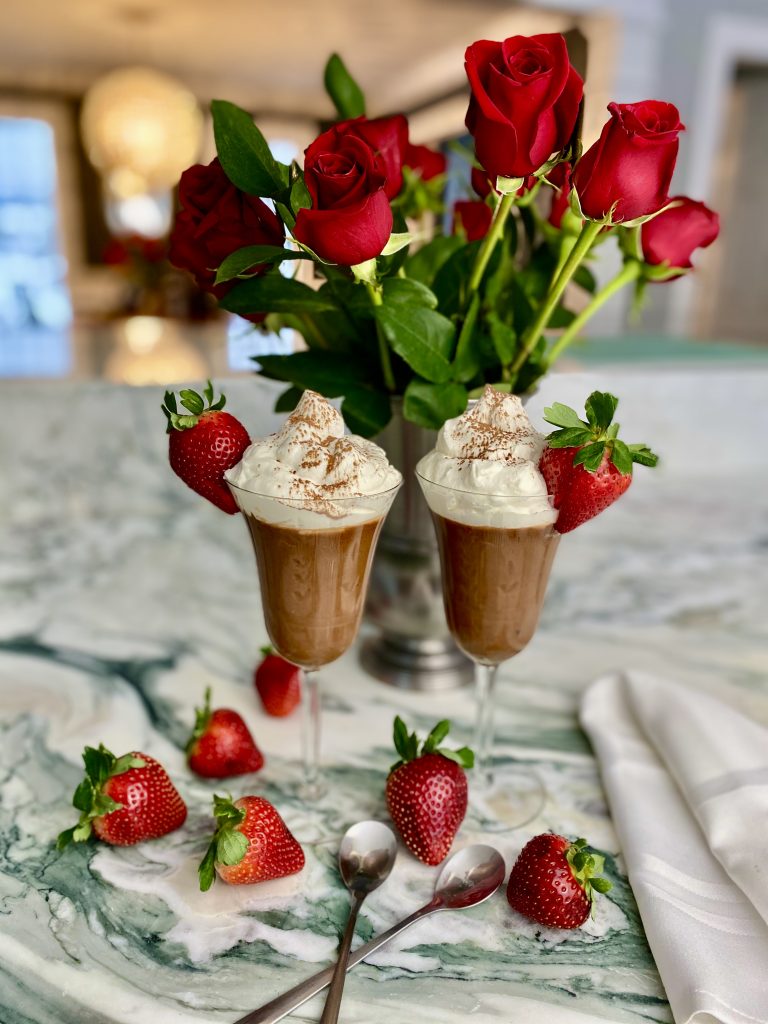 ½ cup cold heavy whipping cream
4 large egg yolks
3 tablespoons espresso
4 tablespoons sugar
Pinch of salt
4 tablespoons sugar
6-ounces semi-sweet chocolate (60-70% cacao – not baking chocolate), chopped
2 large egg whites
Whipped Cream:
1 cup heavy cream
2 tablespoon powdered sugar
½ teaspoon vanilla extract
Using an electric mixer, beat the cream in a small bowl until stiff peaks form.  Refrigerate until ready to use.
Combine the egg yolks, espresso, 2 tablespoons sugar, and salt in the top pan of a double boiler or small metal bowl.  Place 2" of water in the bottom of the double boiler and bring to a boil.  Reduce to a simmer and place the pan or bowl with the eggs on top.  Whisk constantly until the mixture becomes thick and homogenous (no loose liquid) and turns light brown, about 2 minutes.
Remove from heat and add the chocolate to the pan.  Whisk until the chocolate is melted and then whisk every few minutes until the chocolate is smooth and comes to room temperature.
Place the egg whites in the bowl of a stand mixture and whip until frothy on medium high speed.  Turn speed to high and gradually add the remaining 2 tablespoons of sugar and whip until stiff peaks form.
Gently fold half of the stiff egg whites into the chocolate mixture until well incorporated, followed by the second half of the whites, and then the whipped cream.
Spoon or pipe the mousse into parfait cups or glasses and chill for at least 2 hours.  Top with whipped cream (recipe below).
Whipped Cream:
Place all of the ingredients in the bowl of a stand mixer and  whip on high until cream thickens.  Push down the sides and continue to mix until you reach the desired consistency.  Note – it is helpful if you place your bowl in the freezer for 5-10 minutes before whipping the cream.
Select multiple categories to narrow your search! Want appetizers made with chicken? Just select both Appetizers and Chicken!