CHICKEN, WINTER SQUASH, BACON, AND ARUGULA PARMESAN GRATIN CASSEROLE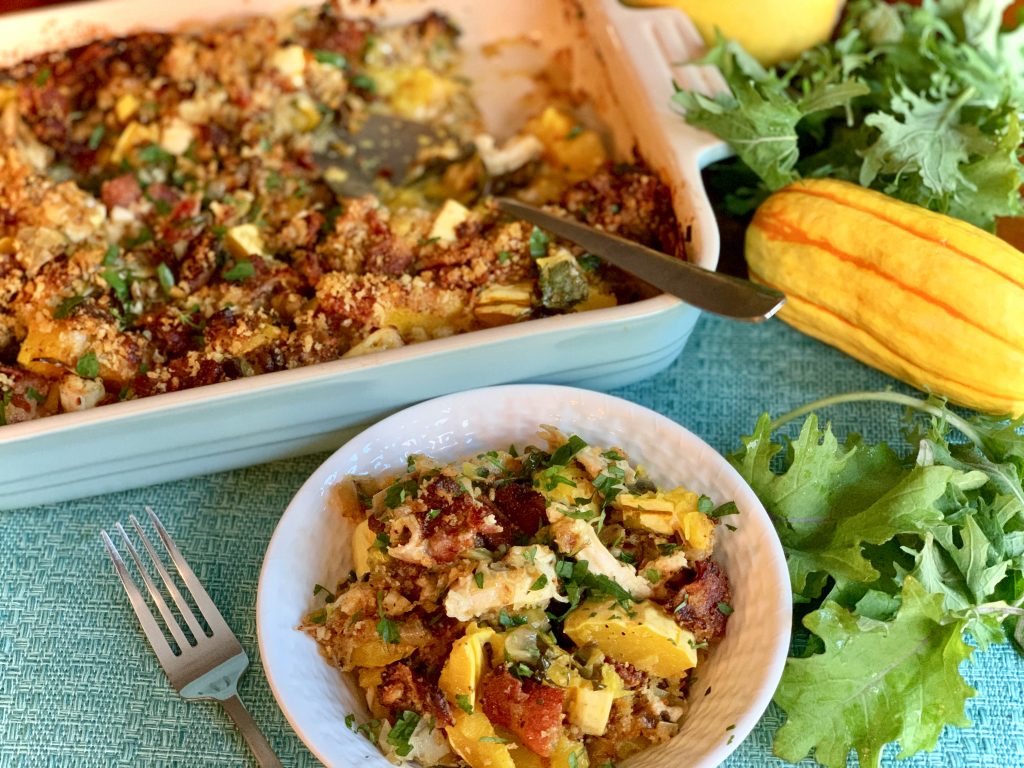 ½ pound bacon slices
2 large leeks, cleaned and chopped (about 3 cups)
4 large garlic cloves, peeled and chopped
3 pounds winter squash, cut into 1" cubes, about 4-5 cups (peeled butternut or acorn, delicata, kombucha, etc…)
3 cups baby arugula, baby kale, or baby spinach leaves (or combo), packed
2 ½ cups cooked and shredded chicken breast (leftover chicken or turkey great for this!)
1 teaspoon salt
1 teaspoon black pepper
1 cup grated parmesan cheese
1 pint heavy cream
¾ cup panko bread crumbs
1 tablespoon olive oil
2 tablespoon fresh chopped parsley for garnish
Preheat oven to 375 degrees.
Cook bacon in a large skillet over medium high heat until just crisp.  Remove from pan and let drain on paper towels, then chop into ½" pieces. Add the leeks and garlic to the remaining bacon grease and sauté until tender and fragrant, about 5 minutes
Coat a 9" x 13" baking dish with non-stick cooking spray.  Combine the squash, arugula, and chicken in the baking dish and toss to evenly distribute.  Season with the salt and pepper.
Top with the squash evenly with the sautéed leeks, followed by bacon, parmesan, and finally pour the cream over the casserole, using a fork to gently 'move' the contents so the cream can flow into the nooks and crannies.
Combine the panko and olive oil in a small bowl.  Sprinkle over the top of the casserole.
Cover with foil and bake for 30 minutes.  Remove foil and bake for an additional 30-40 minutes until bubbly, browned, and the squash is very tender throughout when pierced with a fork.  Garnish with parsley and serve hot.
Select multiple categories to narrow your search! Want appetizers made with chicken? Just select both Appetizers and Chicken!