CHEWY-BAKKA WALNUT AND WHITE CHOCOLATE CHIP COOKIES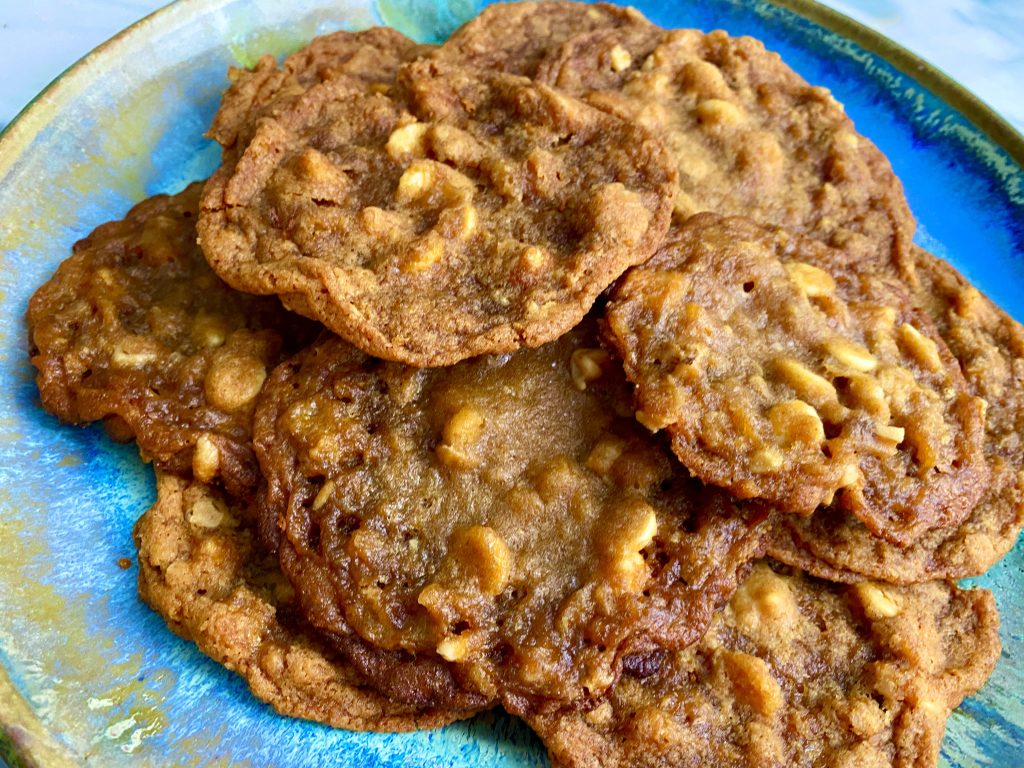 1 ¼ cups butter, softened
2 ½ cups sugar
2 eggs
3 tablespoons molasses
2 teaspoons vanilla
2 ¼ cups flour
2 teaspoons baking powder
½ teaspoon baking soda
2 teaspoons cinnamon
1 teaspoon salt
1/3 cup unsweetened coconut flakes
1/3 cup oatmeal
1 ¼ cups walnuts, chopped
1 ½ cups white chocolate chips
Preheat oven to 350 degrees.
Cream the butter and sugar in the bowl of stand mixer with the paddle attachment until fluffy.  Add the eggs, one at a time, until mixed and add vanilla.
Whisk the flour, baking powder, soda, cinnamon, salt, coconut, and oats in a small bowl until well-combined.
Gradually add the dry ingredient mixture to the mixing bowl, occasionally scraping down the sides, until well combined.  Add the nuts and chips to the bowl and mix briefly until well-incorporated.
Drop large rounded tablespoons onto baking sheets about 3" apart.  These cookies will spread during baking so leave room.
Bake for 8-10 minutes until golden and almost set in the center.  Watch them closely so they don't burn.
Let them sit for 5 -10 minutes on the pan to set.  Remove to wire racks.
Select multiple categories to narrow your search! Want appetizers made with chicken? Just select both Appetizers and Chicken!