BUTTERNUT, BRUSSEL SPROUT, AND BACON CASSEROLE WITH MAPLE CREAM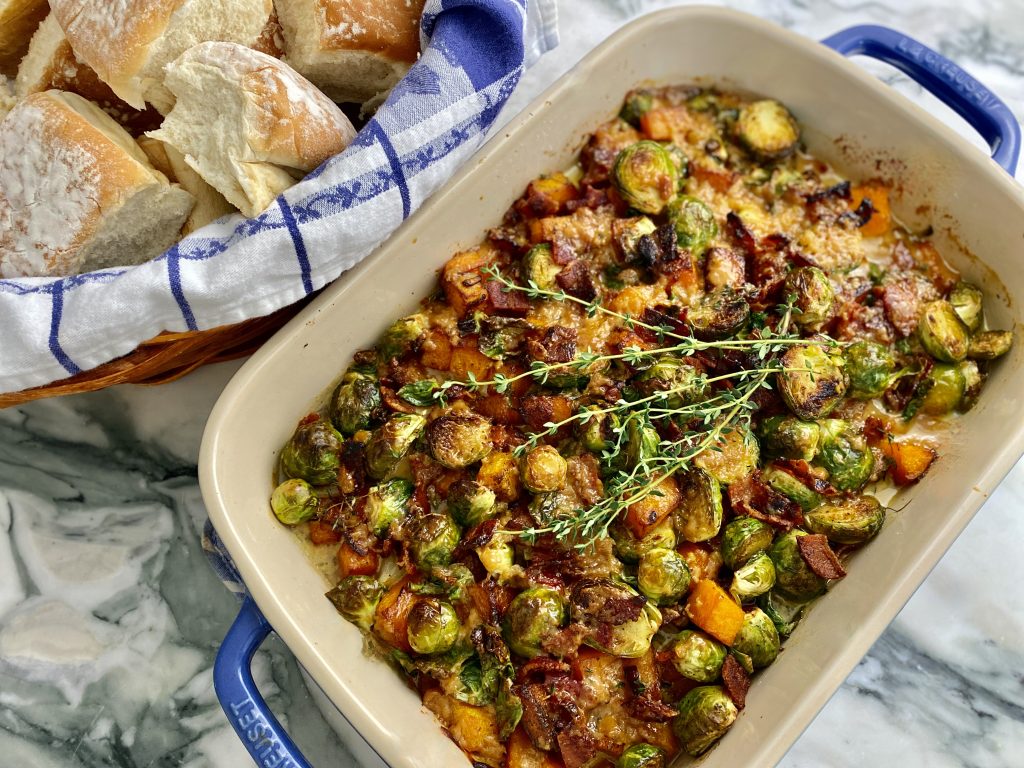 1 cup heavy cream
2/3 cup maple syrup
1 tablespoon Dijon mustard
5 slices raw bacon
1 onion, chopped
8 cloves garlic, chopped
3-pounds butternut squash (about 10 cups), cut into ½"- ¾" cubes
1 ½ teaspoons salt, divided
1 teaspoon black pepper
1 ½-pounds Brussel sprouts, butt end cut off and sprouts cut in half lengthwise (or whole if very small)
1 tablespoon olive oil
2 teaspoons fresh thyme leaves
Preheat oven to 375 degrees
Place the heavy cream, syrup, and Dijon in a large saucepan and bring to a boil, whisking.  Reduce to a low boil land let cook and reduce while you prepare the rest of the casserole.  Whisk occasionally and watch to make sure it does not bubble up and boil over.
Place the bacon in a large deep skillet and cook over medium high heat until crisp.  Remove and chop into ½" pieces.  Reserve the bacon fat in the pan.
Add the onions and garlic to the pan and cook until fragrant, about 2 minutes.  Add the squash, 1 teaspoon of the salt, and ½ teaspoon of the black pepper to the pan.  Cover the pan and cook, stirring occasionally until the squash is just fork tender, about 8-10 minutes.  Transfer the squash to a 9" x 13" baking dish coated with non-stick spray.
Add the Brussel sprouts to the pan drippings same skillet and season with the remaining salt and pepper.  If the pan is very dry, add the 1 tablespoon of olive oil.  Cook, stirring frequently, until they begin to lightly brown and are almost fork tender, about 5-6 minutes.  Add the Brussel sprouts to the baking dish with the squash and toss lightly so everything is evenly distributed.
Sprinkle the reserved bacon and 1 teaspoon of the thyme leaves over the top of the squash and sprouts.  Pour the reduced maple cream sauce evenly over the top of the casserole.
Bake for 25-30 minutes until bubbly and browned.  Sprinkle with the remaining teaspoon of thyme leaves and garnish with thyme sprigs.  Serve hot.
Select multiple categories to narrow your search! Want appetizers made with chicken? Just select both Appetizers and Chicken!