BRAISED BEEF SHORT RIBS OVER POLENTA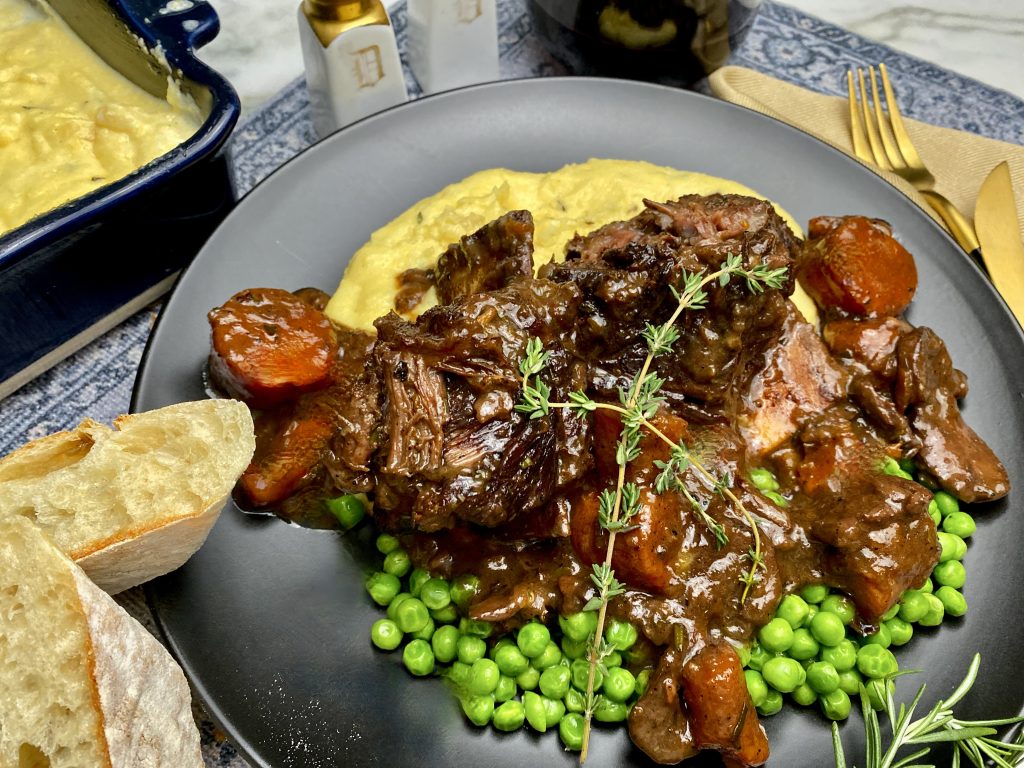 5-pounds beef short ribs, bone in and nicely marbled
2-3 teaspoons salt
2-3 teaspoons black pepper
1 cup corn starch, divided
¼ cup olive oil
2 large onions, rough chopped
8 large cloves garlic, rough chopped
6 large carrots cut into 2" pieces
2-pints sliced mushrooms
2 large rosemary sprigs, leaves removed and chopped
10 sprigs thyme, tied together with kitchen string
1, 750-ml bottle good quality red wine
2-3 cups beef stock
Creamy Herbed Cheese Polenta
6 cups water
1½ cups polenta or yellow cornmeal
2 teaspoons salt
2 tablespoons butter
1 small onion, chopped fine
1 tablespoon fresh thyme leaves
1 tablespoon fresh rosemary, chopped
1 tablespoon fresh parsley, chopped
½ cup smoked Gouda cheese, shredded
½ cup parmesan, shredded
8-ounces Velveeta, cubed
¼ cup heavy cream
Preheat oven to 325 degrees.
Season the short ribs liberally with the salt and pepper on all sides.  Put ¾ cups of the corn starch in a ziplock bag.  Shake each of the short ribs in the corn starch to coat and knock off the excess.
Heat olive oil over medium high heat in a 10-12 quart Dutch oven.   Sear the short ribs on all sides in the hot oil, working in 2 batches so the ribs are not 'crowded' in the pan which will cause them to steam rather than sear.  Remove from pan and set aside.
Reduce heat to medium and add the onions, garlic, carrots, mushrooms, rosemary, and thyme to the pan.  Cook, stirring frequently, until onions are soft and the mixture is fragrant, about 5 minutes.
Add the ribs back into the pan in one layer if possible, nestling them into the veggies and herbs.  Pour in the bottle of red wine and add enough beef stock to bring the liquid ¾ of the way up the ribs, so they are not quite covered.  Bring to a boil over high heat.
Cover and place in the oven and cook for 3-3 ½ hours, until the meat is falling off the bones.
Gingerly remove the ribs from the pan and set aside.  Remove the bunch of remaining thyme sprigs and discard.  Skim any excess fat off the top of the remaining liquid and then bring the broth to a boil.
Dissolve remaining ¼ cup corn starch with ¾ cups of water in a shallow bowl and add to the pan, stirring as the broth thickens and becomes silky.  Reduce heat to low and add the short ribs back to the pan.
Serves ribs with gravy over polenta (recipe below) or mashed potatoes.  DEVOUR.
Creamy Herbed Cheese Polenta
Preheat oven to 350 degrees.
Pour the 6 cups of water into a 9" x 13" baking dish.  Whisk polenta and salt into the water and bake uncovered for 40 minutes.
While the polenta bakes, melt the butter in a small skillet and saute the onions, thyme, and rosemary until fragrant and the onions are soft.  Remove from heat.
Remove polenta from the oven and stir in onion and herb mixture, fresh parsley, and cheeses until smooth and cheeses are completely melted.  Stir in heavy cream until well-combined and velvety.
This recipe can also be halved and made in an 8" x 8" baking dish.
Select multiple categories to narrow your search! Want appetizers made with chicken? Just select both Appetizers and Chicken!