BARBECUED CHICKEN AND SWEET POTATO SHEET PAN DINNER WITH PEPPERONCINI-LACED SLAW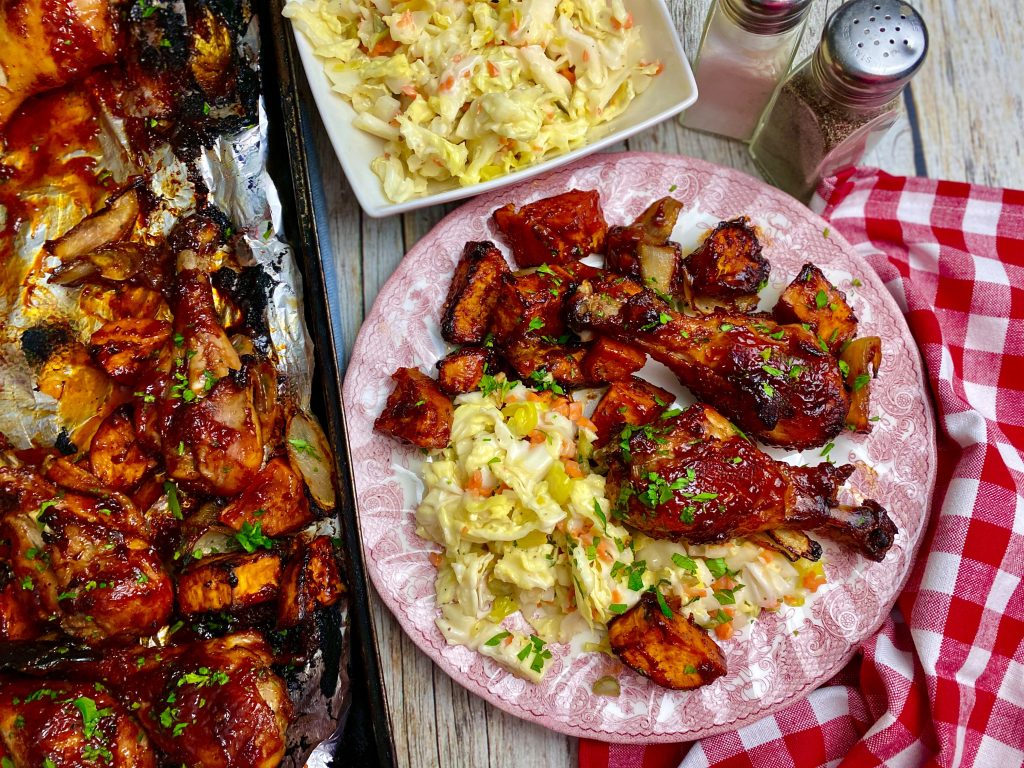 The BBQ Sauce:
1 ½ cups ketchup
¼ cup apple cider vinegar
2 tablespoons molasses
2 tablespoons Dijon mustard
1 cup brown sugar, packed
1 tablespoon Worcestershire sauce
1 tablespoon Dish off the Block Ragin' Cajun Spice Blend
1 teaspoon salt
½ teaspoon black pepper
The Chicken and Taters:
3 ½-pounds chicken legs (or your favorite parts)
1 teaspoon salt
½ teaspoon black pepper
2 large sweet potatoes, peeled and chopped into 1-1 ½" chunks (about 1 ½-2 pounds)
1 large onion, peeled and cut into 1" wedges
2 tablespoons fresh chopped parsley (optional)
The Slaw:
7-8 cups cabbage, chopped
1 small onion, finely chopped (about ¼ cup)
1 large carrot, finely chopped or shredded
¾ cup pepperoncini peppers, drained and chopped
¼ cup cornichon or sweet pickles, chopped
½ cup Hellmann's Light Mayonnaise
2 tablespoons cider vinegar
1/3 cup sugar
¼ cup buttermilk
½ teaspoon salt
½ teaspoon black pepper
Combine the ketchup, vinegar, molasses, Dijon, brown sugar, Worcestershire, Ragin' Cajun spices, salt, and black pepper in a large saucepan.  Bring to a boil over medium high heat whisking until everything is combined and smooth.  Remove from heat and cool to room temperature.
Pat the chicken dry with paper towels and place it in a large bowl.  Season all over with the salt and pepper.  Pour half of the BBQ sauce over the chicken and toss with tongs until the legs are all well coated.  Cover and marinade the in fridge for 1 hour or up to overnight.  Bring to room temperature before baking.
While the chicken marinades, make the slaw.  Combine the cabbage, onion, carrot, pepperoncini, and cornichon in a large bowl.  In a small bowl combine the mayonnaise, vinegar, sugar, buttermilk, salt, and pepper and whisk until smooth.  Pour this dressing over the cabbage mixture and toss to fully coat.  Cover and keep in the fridge until ready to serve (this slaw gets better and better the longer it sits!).
Preheat oven to 425 degrees.  Line a large rimmed baking sheet with foil and spray generously with non-stick spray.
Place the marinated chicken legs on the baking sheet, careful not to crowd.  Place the sweet potato and onion pieces into the bowl that the chicken was in and toss to coat with any remaining marinade.  Spread these around the chicken pieces in an even layer.
Place the pan in the oven and bake for 20 minutes.  Remove and turn the legs over and gently toss the veggies.  The key is to get everything to cook evenly and let the BBQ sauce caramelize on all sides!
Place the pan back in the oven for 10 minutes and toss and turn again.  Repeat for another 5-10 minutes until the chicken is cooked through (160-165 degrees) and the sweet potatoes are caramelized and tender when pierced with a knife.
Get some extra napkins and serve the sweet, sticky chicken, sweet potatoes, and onions with a heaping side of cold slaw.  DEVOUR!!
Select multiple categories to narrow your search! Want appetizers made with chicken? Just select both Appetizers and Chicken!