BALSAMIC GLAZED MUSHROOM BRUSCHETTA WITH GORGONZOLA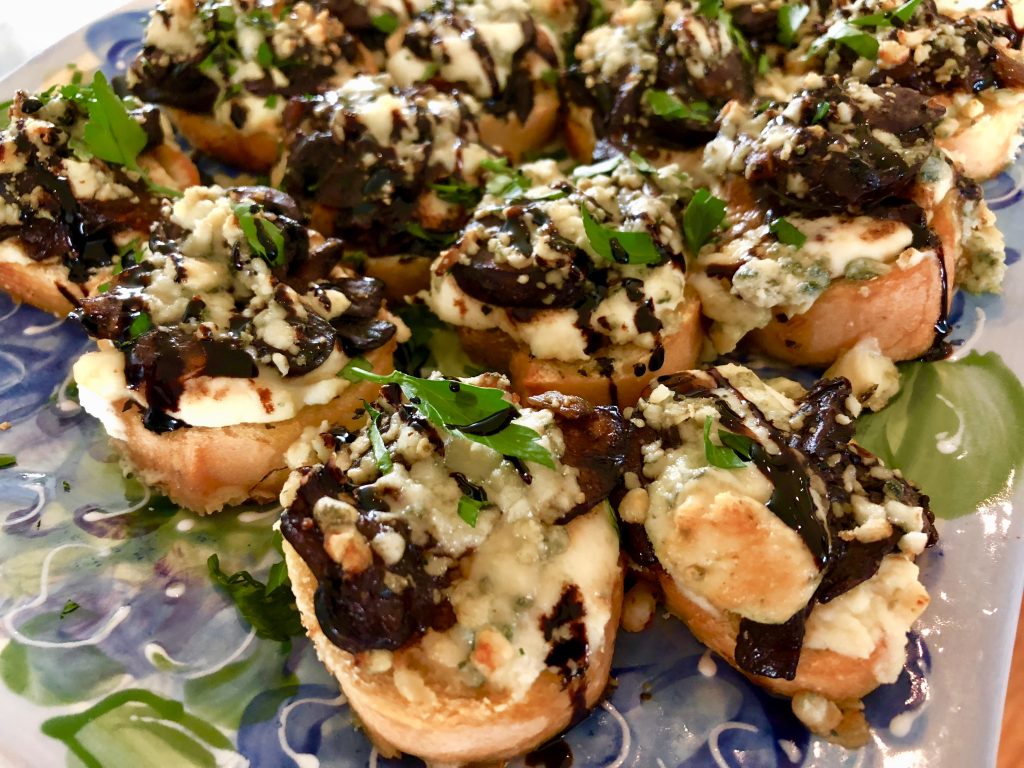 2 tablespoons butter
2 tablespoons olive oil
1 large sweet onion, chopped
5 garlic cloves, chopped
1-pound cremini mushrooms
½-pound shitake mushrooms
1 teaspoon salt
1 teaspoon black pepper
1 cup strong chicken stock
⅓ cup balsamic vinegar
2 tablespoons sugar
1 large loaf French baguette
¼ cup olive oil for brushing on the bread
1-pint whole milk ricotta cheese
1 cup crumbled gorgonzola cheese
Balsamic glaze (found in the Italian section of your grocery store)
3 tablespoons flat leaf parsley, chopped
Melt butter and 2 tablespoon olive together in a large skillet over medium heat.  Add onions and garlic and sauté until soft and fragrant, about 2 minutes.
Add the mushrooms, salt and pepper to the pan and cook, stirring occasionally until all of moisture is absorbed and they begin to lightly brown, about 5 minutes.
Add the chicken stock and balsamic to the pan and cook over medium high heat until most of the moisture is absorbed and sauce coats the back of a spoon.  Stir in sugar and cook for another two minutes until sauce is thick and syrupy.  Set aside.
Preheat oven to 350 degrees.
Cut the baguette into ¾" slices and brush lightly with olive oil on both sides.  Place ono a foil lined cookie sheet and bake for 8-10 minutes until toasty, but still soft in the center.
Top each toasted bread slice with 1 tablespoon ricotta followed by mushrooms and a sprinkle of the gorgonzola cheese.  Bake for 15-20 m minutes until hot and gorg is lightly browned.  Garnish with balsamic glaze and parsley.
Select multiple categories to narrow your search! Want appetizers made with chicken? Just select both Appetizers and Chicken!