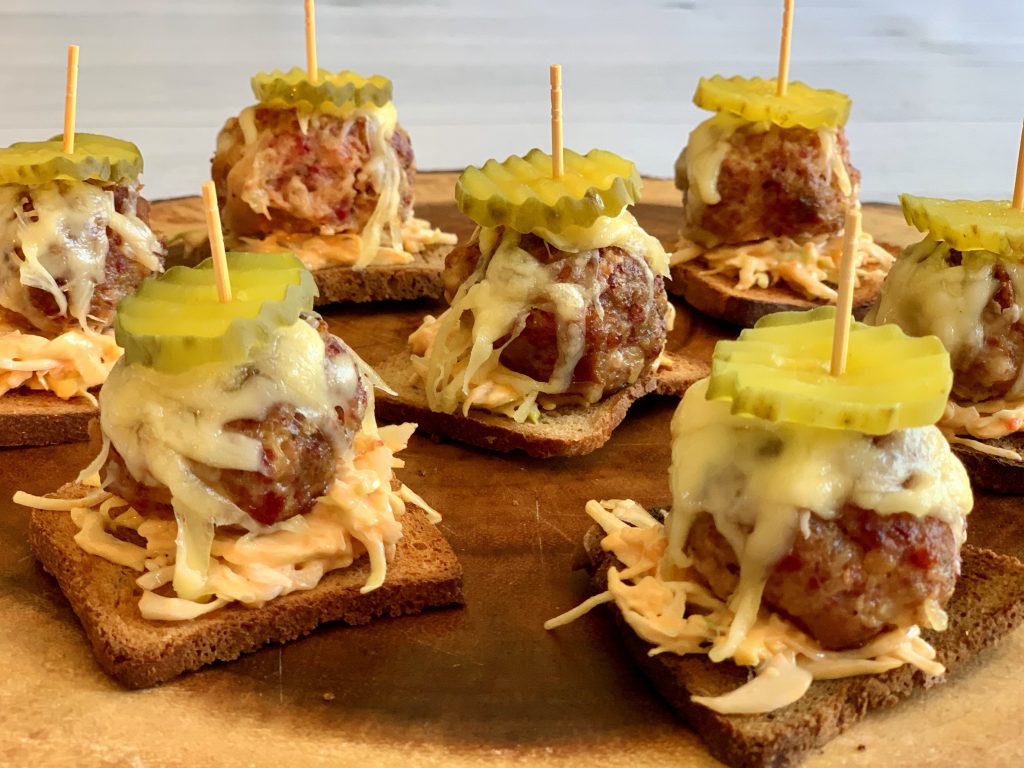 1 package cocktail rye or pumpernickel bread (or regular rye bread cut into 2 ½" x 2 ½ " squares)
3 slices rye bread (regular size)
½ cup milk
1 pound corned beef, sliced
1 pound 80/20 ground beef
1 teaspoon salt
1 teaspoon black pepper
2 eggs, beaten
½ cup Italian bread crumbs
1 teaspoon caraway seeds
1, 8 ounce can sauerkraut, drained
1 tablespoon Dijon mustard
3 tablespoon olive oil
4 cups freshly shredded Jarlsberg cheese (or good quality Swiss)
3 cups cole slaw mix
½ cup Thousand Island dressing
1 jar dill pickle chips
Preheat oven to 400 degrees.
Place 40 pieces of the cocktail bread on a large baking sheet and place in the oven to toast, about 7-8 minutes.  Remove and set aside.
Rip the 3 slices (regular size) rye bread into small pieces and place in a large bowl.  Cover with the milk and toss to absorb.
Place the corned beef in a food processor and pulse until it is finely chopped. Add to the bowl with the milk-soaked bread along with the ground beef, salt, pepper, eggs, bread crumbs, caraway seeds, sauerkraut, mustard, olive oil and 1 ½ cups of the shredded cheese.  Mix everything together using your hands until everything is well incorporated. Form into small balls about the size of a ping pong ball.  Place in the oven and bake for 30 minutes until cooked through.  Remove from the oven and top with the remaining shredded cheese.  Place back in the oven for 5-7 minutes until cheese is melted.
Combine the coleslaw mix and dressing in a small bowl and mix well.
To assemble the canapes, place a small mound of the cole slaw on each piece of toasted cocktail bread.  Top with a cheesy meatball and finally one pickle chip. Secure with a toothpick and serve warm.
Select multiple categories to narrow your search! Want appetizers made with chicken? Just select both Appetizers and Chicken!