BANANA BREAD PUDDING WITH SALTED FRANGELICO CARAMEL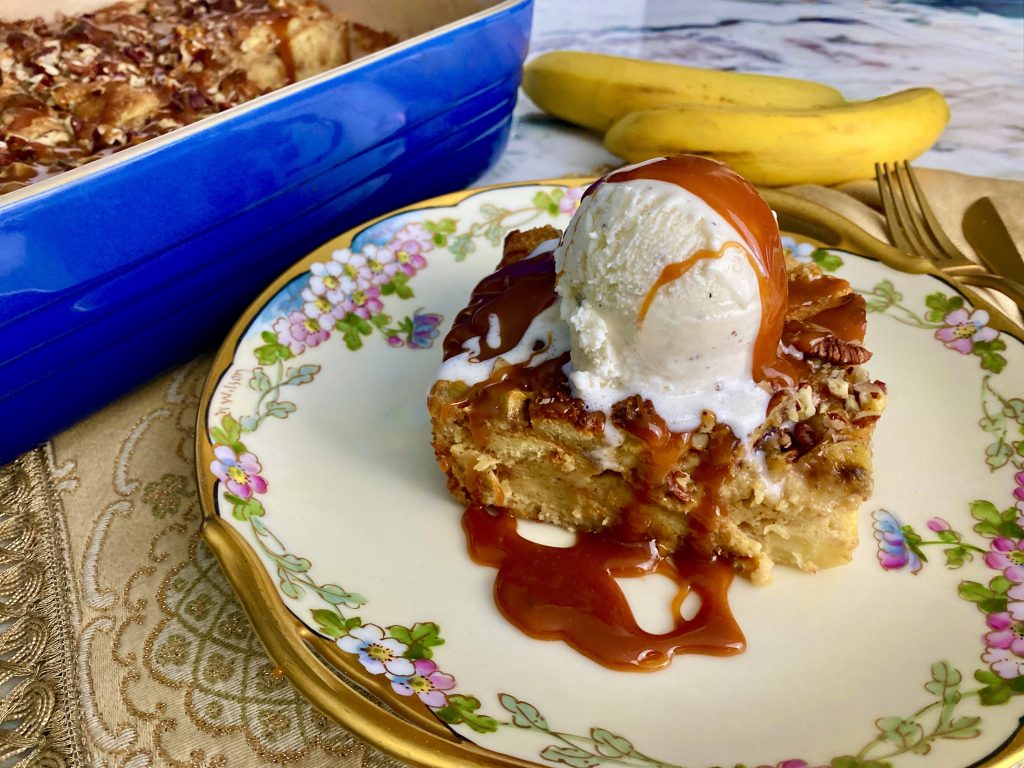 1, 1-pound loaf brioche bread (challah or French bread would also work)
5 ripe bananas (not overly ripe to brown)
1, 14-ounce can sweetened condensed milk
½ cup brown sugar, packed
5 eggs
1 cup heavy cream
1 ½ cups light cream
2 teaspoons vanilla
½ cup Frangelico liqueur
½ teaspoon salt
1 teaspoon cinnamon
2 tablespoons butter, softened
½ cup chopped hazelnuts or pecans
Caramel:
1 cup sugar
6 tablespoons butter
¼ cup Frangelico liqueur
¼ heavy cream
2 teaspoons rock sea salt
Preheat oven to 350 degrees.
Cut the bread into 1 ½-2" cubes and spread them out on a foil-lined baking sheet.  Bake for 8-10 minutes until the bread is toasty and golden, but still soft in the center.  Remove and cool to room temperature.
Mash 3 of the bananas in the bottom of a large bowl with a fork.  Add the condensed milk, eggs, heavy cream, light cream, vanilla, Frangelico, salt, and cinnamon to the bowl and beat for 1-2 minutes until everything is very well combined.
Slice up the remaining more banana into ½" thick half-moons.  Add them to the cream mixture along with the toasted bread and toss until all of the bread is well coated in the cream mixture.  Let sit for 30 minutes.
Spread the softened butter all over the bottom and up the sides of a 9" x 13" pan.  Pour the creamy bread mixture into the pan and spread it out evenly.  Cover with foil and refrigerate for at least 3 hours or overnight.
Bring the bread pudding to room temperature for 30 minutes before baking.  Preheat the oven to 350 degrees.
Just before baking, top the bread pudding with the pecans and lightly press them into the top of the batter.  Bake for 30-40 minutes until the center is mostly set, but still slightly jiggly.
Remove and let cool for 20-30 minutes.
To make the Frangelico caramel sauce, heat the sugar in a large saucepan, stirring with a wooden spoon or rubber spatula.  This process will take about 5 minutes and the sugar will go from chunky to a liquid.  When the liquid is golden brown, caramel color, add the butter to the pan.  The caramel will bubble up.  Keep stirring until the butter is completely melted into the sugar.  Slowly add the Frangelico followed by the heavy cream (note the caramel will bubble up again). Keep stirring and let cook for 1 minute more until a rich caramel sauce has formed.  Remove from heat.  Drizzle half the caramel sauce over the top of the bread pudding and sprinkle the top with the sea salt.
Serve the warm bread pudding as is or topped with vanilla ice cream and more caramel over the top.
Select multiple categories to narrow your search! Want appetizers made with chicken? Just select both Appetizers and Chicken!