AUTUMN INSPIRED TACOS WITH WINTER SQUASH AND MANGO SALSA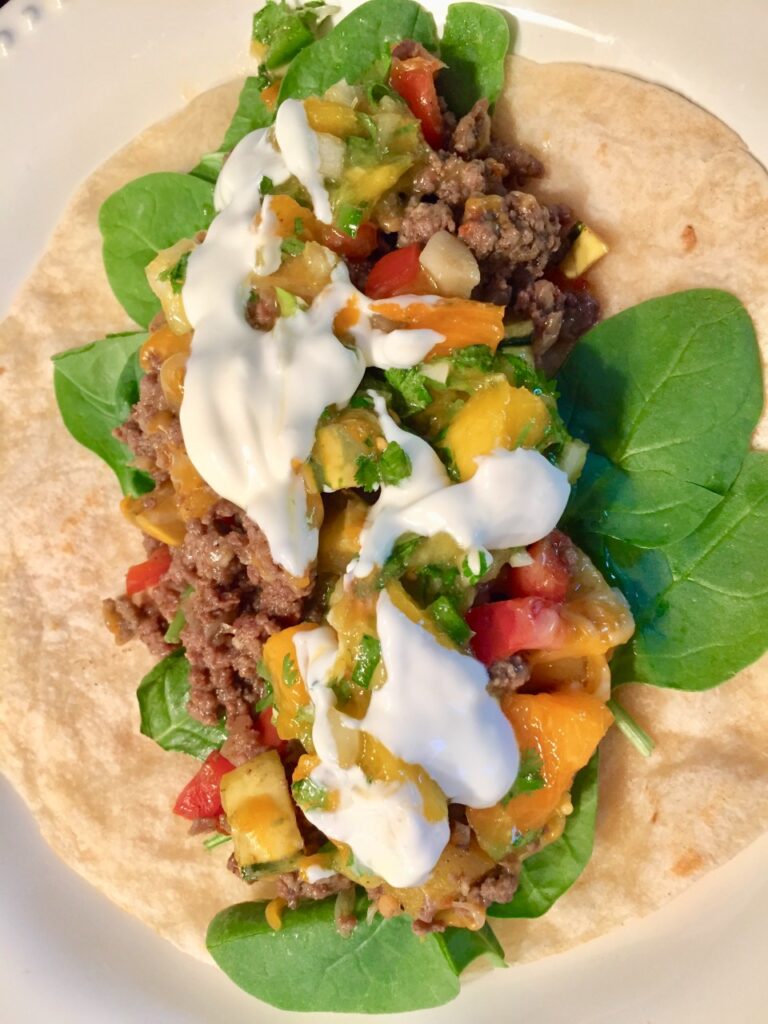 Burger mix:
4 tablespoon olive oil
1 large onion, chopped
6 cloves garlic, chopped
2 cups winter squash, chopped into ½ dice (delicata, butternut, acorn, etc…)
1 red bell pepper, chopped
1.5 pounds lean ground beef
2 teaspoon salt
1 teaspoon black pepper
1 teaspoon cinnamon
½ teaspoon red pepper flakes
1 teaspoon cumin
¼ cup honey
Salsa:
I large tomato (summer fresh) or 3 plum tomatoes, chopped
2 mangoes, chopped
1 small onion, chopped
1 jalapeño, chopped including seeds (if you want heat)
⅓ cup chopped fresh cilantro
¼ cup honey
1 teaspoon salt
½ teaspoon cumin
Crema:
1 cup sour cream
1 cup heavy cream
1 teaspoon salt
2 cups Mexican shredded cheese
8, 10" Flour tortillas (or corn tortillas for gluten-free option)
4 cups baby spinach
In a large skillet over medium heat, sauté the onion, garlic, and squash in olive oil until the squash starts to get tender when pierced with a fork. Add red bell pepper and ground beef and mix, breaking up the ground beef as it cooks. Once ground beef is almost cooked through add salt, black pepper, cinnamon, red pepper flakes, cumin, and honey. Mix well and let cook, stirring occasionally while you make the salsa, about 5-7 minutes.
In a medium size bowl, combine all of the salsa ingredients and mix well.
In a small bowl whisk sour cream, heavy cream, and salt until smooth to create the crema sauce.
Top the beef and squash mixture with the shredded cheese and cover the pan so the cheese melts.
Heat a large skillet over medium high heat. Place a tortilla in the skillet and let toast until lightly browned. Flip over and toast the other side, approx. 2 minutes per side. Repeat with remaining tortillas.
Place about ¼ cup spinach leaves down the middle of each toasted tortilla. Top with about ½ cup of the beef mixture, ¼ cup mango salsa, and 2 tablespoons crema.
Select multiple categories to narrow your search! Want appetizers made with chicken? Just select both Appetizers and Chicken!